Shri.Madhavarao Adkar is very popular and stands out amongst Sai Mahabhaktas. He spent most part of his life in the divine presence of Shri Sai Baba. The credit of writing the World famous Aarti of Shri Sai Baba "Aarti Sai Baba Saukhyadaatara Jeeva……" goes to him. He wrote this Aarti with the Grace, total inspiration and blessings of Shri Sai Baba. He wrote this Aarti somewhere in the year 1903-1904. Das Ganu Maharaj who heard this Aarti at that time told "this Aarti will protect the devotees for sure and this will be sung every day in Shirdi".
Today, Shri.Mahdhavrao Adkar through his Aarti is indirectly present throughout the World in each and every Sai Devotee house without their knowledge. Shri.Madhavrao Adkarji is known to the people through the medium of Aarti and through the Group photograph of Baba (Umbrella Photograph wherein Madhavrao Adkarji is standing first from left). And most importantly his photograph has been put up on the wall of the Samadhi Mandir.
Shri.Madhavrao Adkarji was born on 5th September 1877 in a rich and pious Brahmin family. He was born in his maternal Grandfather's house at Ahmednagar. His father's name was Shri.Vaman Rao and his loving mothers' name was Smt.Godavari.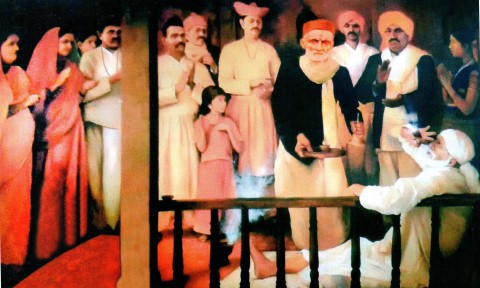 There is an interesting story behind the birth of Madhavrao. His grandfather was sleeping in the SaleeVitthal Mandir. Around 2'o clock in the morning, he heard in his dream – "Get up ! You have been blessed with a grandson !!" He rushed towards his home. He came to know that his daughter has given birth to a son. He realized that the dream which he saw in Vitthal Mandir has come true. He felt that his grandson was like newly born Lord Madhav (another name of Lord Vitthal). Therefore, the family decided to name the child as Madhav.
During his childhood, a unique accident took place. While playing with little Madhav, his mother tossed him in the air, but failed to catch him. He landed in the sand. The lady panicked. However, the child was smiling at her. The mother realized that there was something unique about her child.
Madhav had a younger brother, Ganesh and younger sister, Durga.
Adkar's family originated from the village of Dhanora, which is close to Ahmednagar. The family owned twowadas (large houses) and a lot of farm land. They were also holding the post of 'Kulkarni' and were trusted with collection and keeping accounts of govt. land revenue.
The Mool Purush of Adkar family was a person by the name 'Yogiraj'. His samadhi / tomb exists in one of the twowadas. In the recent times, the dilapidated samadhi was restored by Madhavrao's nephew Shri Vishnupant Adkar and members of his family.
Swami Yogiraj had only one son by the name Sabaji. Sabaji Pant had three sons. The eldest – Trimbakrao – was the grandfather of Madhavrao.
Madhavrao's father Vamanrao was a devotee of Lord Vitthal. He visited the pilgrimage town of Pandharpur four times in a year. His mother Godavaribai belonged to the religious family of Deshmukh.
Madhavrao Adkar lost his mother in the year 1886 when he was just 9 year old. He studied upto Metric Class in his maternal Grandfather's house itself. He was fond of Bhajans and Classical Music since his childhood itself. Since he had an excellent voice, Madhavrao used to sing in Temples as well as Social gatherings. In the year 1895, his grandfather and grandmother also passed away. Hence, Madhavrao Adkarji left Ahmednagar and came to staty with his father Shri.Vamanrao. After few years, on the advise of his father, Shri.Madhavrao eventhough not interested reluctantly started working.
Shri.Madhavrao was interested in visiting holy places and in meeting and staying in the companh of Saints and Noble Persons. He used to write 3-4 letters everyday to his close friends and God Loving friends and used to feel elited when he received replies back from them. Seeing this tendency of Shri.Madhavrao Adkarji his father Shri.Vamanrao decided to get him married early so that he will leave all these kinds of activities and gets busy in family life.
Raghopant Kavade (jeweller from village Sade, taluka – Karmala, district – Solapur) was very much impressed by Madhavrao's sharp intelligence and beautiful handwriting. He wanted his daughter Gangubai to marry him. Accordingly, the marriage took place at village Sade in 1899. Madhavrao was 22 years old at that time. Very shortly after marriage, He left his job and without informing any family members went out on a Pilgrimage because of which his father and in-laws were very upset. After few months, he came back from Pilgrimage on his own which made the family members feel very happy. He, however, statyed for just two months in the house. But, one fine day he packed his luggage along with Spiritual Books and went away from the house. This made his family members very much worried. After thorough search, the family members came to know that Shri.Madhavrao went on Kashi Yatra and from there to Shegaon and finally went and settled down in Shirdi.
In Shirdi, he met Dasganu Maharaj, whom he knew earlier when he was residing at Ahmednagar. When Dasganu Maharaj was working as Constable at Jhamkheda, Madhavrao was studying in 8th Standard. Every week, he used to go to Jhamkheda to meet Dasganu Maharaj. Upon request from villagers, Dasganu Maharaj had decided to perform the famous "Mrichakatika" drama in that village. In this Drama, Dasganu Maharaj gave the role of "Charudatta" to Madhavrao. The audience were very much pleased with Mahdavrao and praised him for his peformance and singing.
Staying in Shirdi, Madhavrao started teaching 10-12 students. While staying there, He used to go regularly for the darshan of Baba, teach students and meet and have satsang with devotees who came to Shirdi to have darshan of Baba. While staying in Shirdi, Madhavrao Adkarji had personally experienced many leelas performed by Sai Baba.
One day many devotees had come to Dwarakamai to have darshan of Baba. Hence, entry to Dwarakamai had been stopped. Outside many devotees were waiting in queue to have darshan of Baba. Hence, Madhavrao Adkarji stood outside Dwarakamai entrance and said to himself "What Baba, we poor people have to wait for long time to have your darshan". At that very moment, Baba shouted from inside the Dwarakamai "Please, allow entry to Adkar….!". Baba is an Antaryamin who knows everything. We cannot keep even a very small feeling of ours from Him!
Since Madhavrao Adkarji left home suddenly without informing anybody, his father and in-laws were very much upset. On getting to know that Madhavrao is staying in Shirdi, the family members started towards Shirdi to bring him back home.
Baba who knew this said to Madhavrao "Madhav, to take you back home, two people are coming tomorrow on horseback. You have to go back with them. But do not worry. You will always be there with me in the form of Aarti that you have written". As prophecied by Baba, the next day two person came and take Madhavrao back home along with them. Baba had already given permission to Madhavrao to go along with them. Baba said: "Now, you go with them. Do not stay back here, Go Away. You will beget a Son. And you name him as 'Ram'. As per the instructions of Baba, the three prostrated to Baba and went back to their village. As prophecied by Baba, after few months, a male child was indeed born to Madhavrao and he promptly named the child as "Ramachandra" as per the earlier instructions of Baba. To place the new born "Ramachandra" at the lotus feet of Baba, Madhavrao Adkarji came to Shirdi along with his wife Gangubai. Baba took "Ramachandra" with utmost affection on his lap and bestowed His Eternal Love and Blessings to the child.
When Madhavrao Adkarji was on his death bed, he called his son Ramachandra to his bedside on 13th November 1955 and said: "Write to Shirdi Sansthan to send good Kafni". Just few days after this, i.e., on 18th November he said: "Ram, you please sing Baba's Aarti. Receite 15th Chapter of Bhagavadgita. Chant the name of Baba and also recite Vishnu Sahasranam".
His Son Ramachandra Adkar asked Madhavrao "Anna, What is your wish?". To which Madhavrao Adkarji said: "I am happy and satisfied like everyone. Do not stop reciting the chantings". The entire family members of Madhavrao Adkarji were singing Baba's Aarti and in the middle of Aarti, Madhavrao Adkarji breathed his last. Thus, he even took his final rest while Baba's Aarti was being sung:
We have given below the world famous Aarti written by Shri.Madhavrao Adkarji and its meaning for the benefit of Sai Devotees:
Arati Saibaabha soukhyadaataara jeevaa
charana fajaatalee dhyaavaa daasaan visaawaa
bhaktaa viswaawaa
Jaaluniuaam aanang swaswaroopee raahe dhanga
Mumukshu janaan daavee nija dolaan serranga,
dolan sreeranana
Jayaa maneejaisaa bhaava tayaa taisaa anubhava
Daawisee dayaaghanaa aisee tujee hee maava
thuzeehimaava
Tumache naama dhyaataan hare sansrithi vyathaa
Agaadha tava karanee maarga daawisee anaadhaa
daawisee anaadhaa
Kaliyugee avataara sagunabrahma saachaara
AvateernajhaaSaase swami datta digambara
datta digambara
Aattaan divasaan guruwaaree bhakta karitee waaree
Prabhupada pahaavayaa bhaavabhaya niwaaree.
bhaya niwaaree.
Maajzaa nija dravaya tteesaa tav charan rajasevaa
Maagane hechiyaataa tumhan
devaadhideva devaadehideva
Jchchita deena chaatak nirmai toya nijasookha
Paajaawe maadhavaa yaa saambha!
aapuiee bhaaka appulee bhaaka
Meaning:
We offer arati, bailing thy glories, Oh Sai Baba, who art the hestower of happiness of beings. Kindly allows us, who are thy footmen and devotee, to rest in the dust of thy holy feet. Thou bast reduced the god of lust, Eros (Manmatha) to ashes and, always remain absorbed in thin own Self (which is pure Being-Awareness-Bliss). Bestow on ardent seekers of Self-Realization the vision of the real Self (atmasakshatkar);
As is ones intent, such shall be his experience. As such thou bestow thy grace upon each according to his conception ofthee. Such is thy divine sport, Oh Compassionate One! Contemplation of thy Holy name destroys all dolorous distresses borne of inherent tendencies. Thy ways are verily inscrutable. Thou art the friend and guide of the helpless;
Thou art the divine incarnation in the Kali Age and, thou art the formless Absolute embodied (as Sai Baba) with all divine attributes. Thou art the perfect manifestation of Lord Datta the Supreme Master;
Once in a week, on every Thursday, devotees throng to thee. Thou remove the fears and frustration of those who take refuge in thy holy feet;
What all I possess, (wealth, body and mind etc.) is proffered at thy feet. Pray grant me the humble service at the holy feet, which indeed, I deem, is my real treasure, Oh God of gods!
Just the chatak-bird slakes it's thirst only by the heavenly waters (rain-drops), make me (Madhav, the poet) too, feed my mind always upon thy blessed from alone. {Complied from internet sources}